PRODUCT INFORMATION
DETAILS
USAGE
INGREDIENTS
PRODUCT INFORMATION
Expiring August 2022.
Please note, this is a final sale product. The option to return or refund will not be available after making a purchase of a final sale product.
Eye gel patch that brightens and firms under eye area using the revitalizing properties of the Okra plant. 
This water-soluble hydrogel patch boasts excellent adhesion and moisturizing capabilities in a flexible form. Patch continuously delivers hydrating essence to skin, from application to removal. Use it to refresh, hydrate, and firm anytime.
60 Patches / Jar (30 Pairs)
CLAIMS
Hypoallergenic
DETAILS
The powerhouse of the Okra Green line is the 10,000 ppm of okra fruit extract, the ultimate skin-food and provider of moisture and nutrition. Okra, a green fruit said to be popular with historical beauty icons Cleopatra and King Guifei Yang, is rich in vitamins and beta-carotene that gently nourish your skin.
USE TO
✔ Moisturizes
✔ Firms
✔ Clarifies
✔ Brightens
✔ Reduce Fine Lines
SKIN TYPE
✔ Dry Skin
✔ Normal Skin
✔ Oily Skin
✔ Combination Skin
USAGE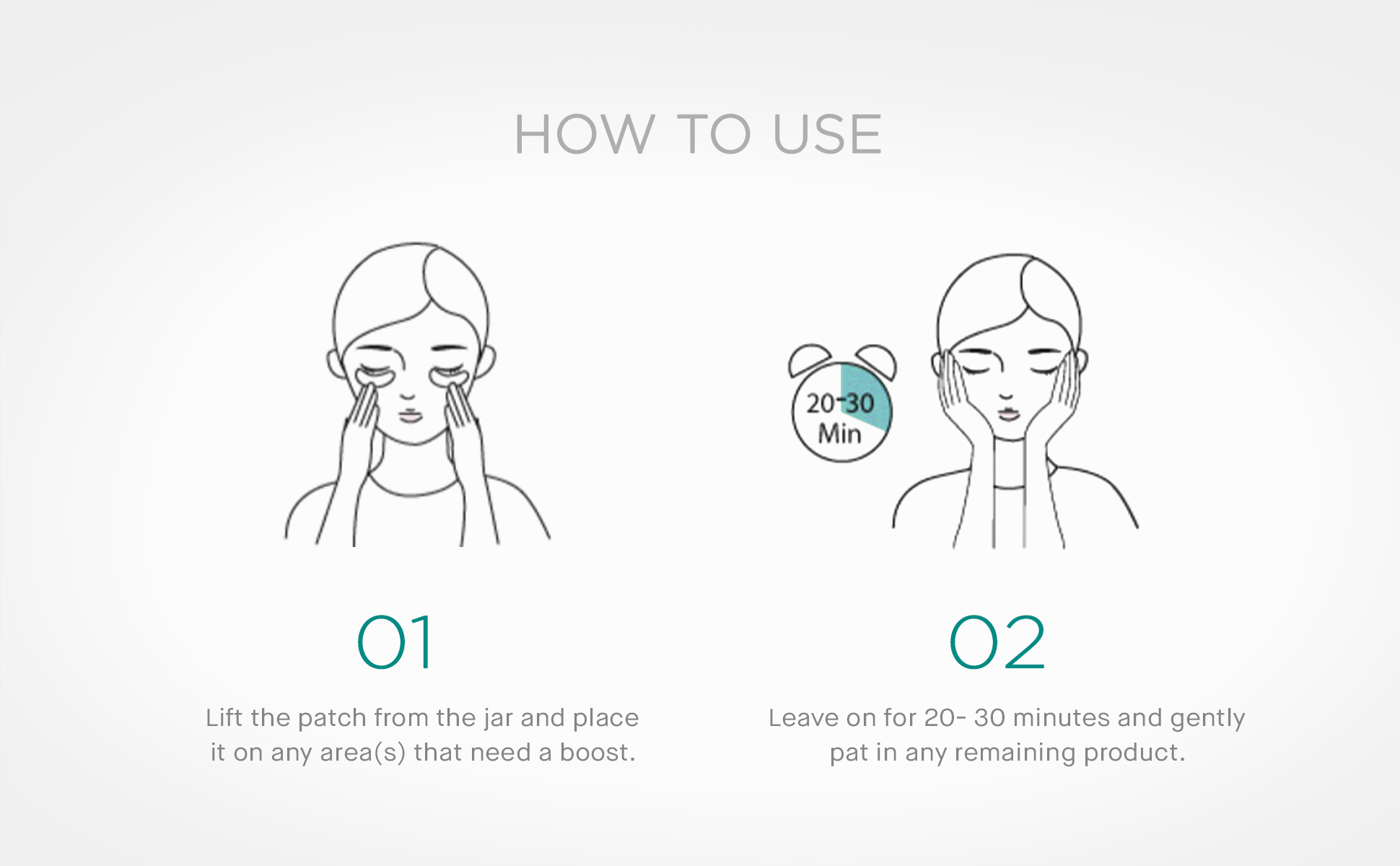 1. After cleansing, apply patch to desired area using the spatula provided.
2. Leave on for 20-30 minutes. Remove and gently pat in any remaining product.
INGREDIENTS
KEY
(1) Okra Fruit Extract - Rich in vitamins and beta-carotene, okra extract forms a barrier that locks in moisture and keeps your skin firm. Gently nourishing.
(2) Artemisia Vulgaris extract - helps purify and revitalize the skin
(3) Houttuynia Cordata extract - helps refine the texture of the skin
(4) Centella Asiatica extract - moisturizes and soothes the skin
FULL
Purified water, glycerin, niacinamide, carrageenan, carob gum, butylene glycol, glucomannan, hydroxyacetophenone, calcium chloride, allantoin, clofenesin, guar gum, okra fruit extract (2,000 ppm), PEG-60 hydrogenei Tiedcaster oil, golden extract, 1,2-hexanediol, titanium dioxide, potassium chloride, propanediol, pentylene glycol, sucrose, yam extract, mugwort leaf extract, calcium lactate, green tea extract, caprylyl glycol , Cellulose Gum, Chromium Oxide Green, Citron Extract, Adenosine, Guju Tree Leaf Extract, Arginine, Dipotassium Glycyrrhizate, Disodium EDTA, Ethylhexyl Glycerin, Coconut Coconut Extract, Panthenol, Flavor, Bulgari Mugwort Extract , Centella asiatica extract, mung bean outpost extract, tocopherol, birch bark extract, sori chinensis root extract