Customer Reviews
06/16/2021
Elizabeth S.

United States
I enjoy this very much.
I don't really go heavy on skincare and like to apply 1 or 2 products only. I've been enjoying this mist very much and don't feel the need for serum or moisturizer. I carry this around and spray through the day and put on night cream before bed.
05/16/2021
Sarah

United States
Absolutely love this mist!!!
I used many mist in the past but I absolutely love this one. It absorbs very good and leave moist skin. I also like the mild scent and perfect for the sensitive/dry skin. I've been using it for about a week and I see the difference in my skin. I absolutely recommend this to everyone.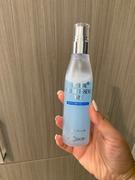 04/30/2021
Julie

United States
In love with this mist
Mist usually makes my skin drier if I don't apply cream after, but this one is unique and really moisturizes. Perfect for the summer.
04/14/2021
Lancy

United States
04/06/2021
Sarah

United States
I absolutely love this!
I absolutely love this!