Customer Reviews
04/14/2021
Eri

United States
it's okay
Didn't expect this to be a small bottle. overall okay but don't see anything special to be this pricey.
02/03/2021
Lyra

South Korea
CLEAN
Excellent product that truly brightens my complexion! Love that the ingredients are clean as well.
01/20/2021
Aisha

South Korea
Noticed Difference Right Away
This was my first time applying this botanic ampoule. I am generally a huge fan of Jayjun, so I decided to switch essence of choice since this was on sale. It really does brighten! Lots of fantastic, active ingredients go into this product and it shows. It is also fragrance-free. ADD THIS TO YOUR BASKET!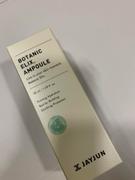 01/20/2021
Maia

South Korea
Love Jayjun
Love this brand. They have lots of vegan products. nice scent and gives my skin an instant glow. Great value for the price
01/11/2021
Blake

South Korea