Customer Reviews
05/04/2021
Amelia

United States
Acne pimple patch
Miracle workers but honestly not that thin to put under makeup.
04/28/2021
Joy

United States
01/25/2021
Jenn

United States
Stack-up worthy
Stack-up worthy. I always have breakouts during my period and this one always rescues.
01/19/2021
Amber O.

South Korea
will never squeeze again
This is great. My worst habit before this patch was trying to leave those deep painful ones alone but eventually picking or squeezing. With these, I am so satisfied seeing all the gunk get ****** out and knowing I'm not doing damage to my delicate skin. Work best if you leave them on overnight.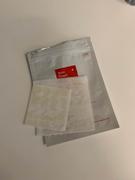 01/19/2021
Macie

South Korea
best
actually really working!