Customer Reviews
06/07/2021
Lee

United States
Refreshing
My fav sheet mask.
01/25/2021
Julie

South Korea
amazing combo
I always use Secret Key Peeling Gel before applying a sheet mask since this lightweight peeling gel gently exfoliates and peels skin's debris, so it can absorb essence more and better. After peeling, I use this Goodal Vita C Serum mask for brightness and hydration. This mask containing a green tangerine extract made my skin tone even and even reduced fine lines. Those two are amazing combos to used together!!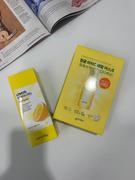 01/19/2021
Hee-Young K.

South Korea
This is one to try.
This mask really lives up to its promises. My skin's tone was more even and brighter. Even the next day it looked amazing.
01/16/2021
Carmen

South Korea
good
good scent, good brightness.
01/14/2021
Kailani

South Korea
Works for me
I personally love this mask because it helps brighten my skin, makes pores look smaller, and add a glow to the skin. No breakouts or irritation at all! I hope they get more Goodal products.