Customer Reviews
01/14/2021
Alayah

South Korea
recommend it
After trying MEDIHEAL Intensive Pore Clean Cleansing Foam, I got this mask since that cleansing foam worked great on my combo, acne-prone skin. This mask ALSO does a great job on my skin. My skin was transformed. I've compared before and after pics and it really worked miracles. I definitely recommend Mediheal's products.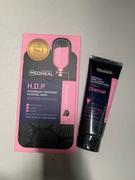 hydrating
so hydrating! great purchase
pore detox
I really liked this mask! The mask is meant to purify, unclog and minimize your pores. I used as suggested, and I felt like it did clean and detox my pores, and my skin felt tighter and pores looked slightly smaller. Didn't dry my skin out either!
Awesome!
I love these face masks! these are very soothing, drenched in serum, and really brighten the skin. I use a face mask every night as part of my routine, and I've fully switched to all mediheal masks. Pro tip; keep them in the fridge (;
Great moisturizer!!!
I have dry patches on my face. This mask moisturizes my skin well. I have not had any bad reactions to it and I have extremely sensitive skin. Just placed another order so that I can use it as recommended on the box. I have not seen a difference in my pore size but I did not use it as instructed.