Customer Reviews
09/17/2021
Katie

United States
I recommend this product.
Very gentle to my skin and my skin is soft afterwards.
01/25/2021
Julie

South Korea
amazing combo
I always use Secret Key Peeling Gel before applying a sheet mask since this lightweight peeling gel gently exfoliates and peels skin's debris, so it can absorb essence more and better. After peeling, I use this Goodal Vita C Serum mask for brightness and hydration. This mask containing a green tangerine extract made my skin tone even and even reduced fine lines. Those two are amazing combos to used together!!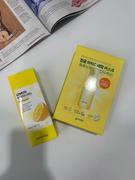 01/15/2021
Brinley

South Korea
will use continuously
This stuff is so gentle on my face! I have very sensitive skin where my face tends to burn when using chemical peels. I am able to easily scrub off the dead skin using this product. My skin feels so soft and clean. Will continue using it.
01/15/2021
Lana

South Korea
Nice and not overpriced atall
This really worked. After prolonged use, I was surprised by how bright my skin had gotten!